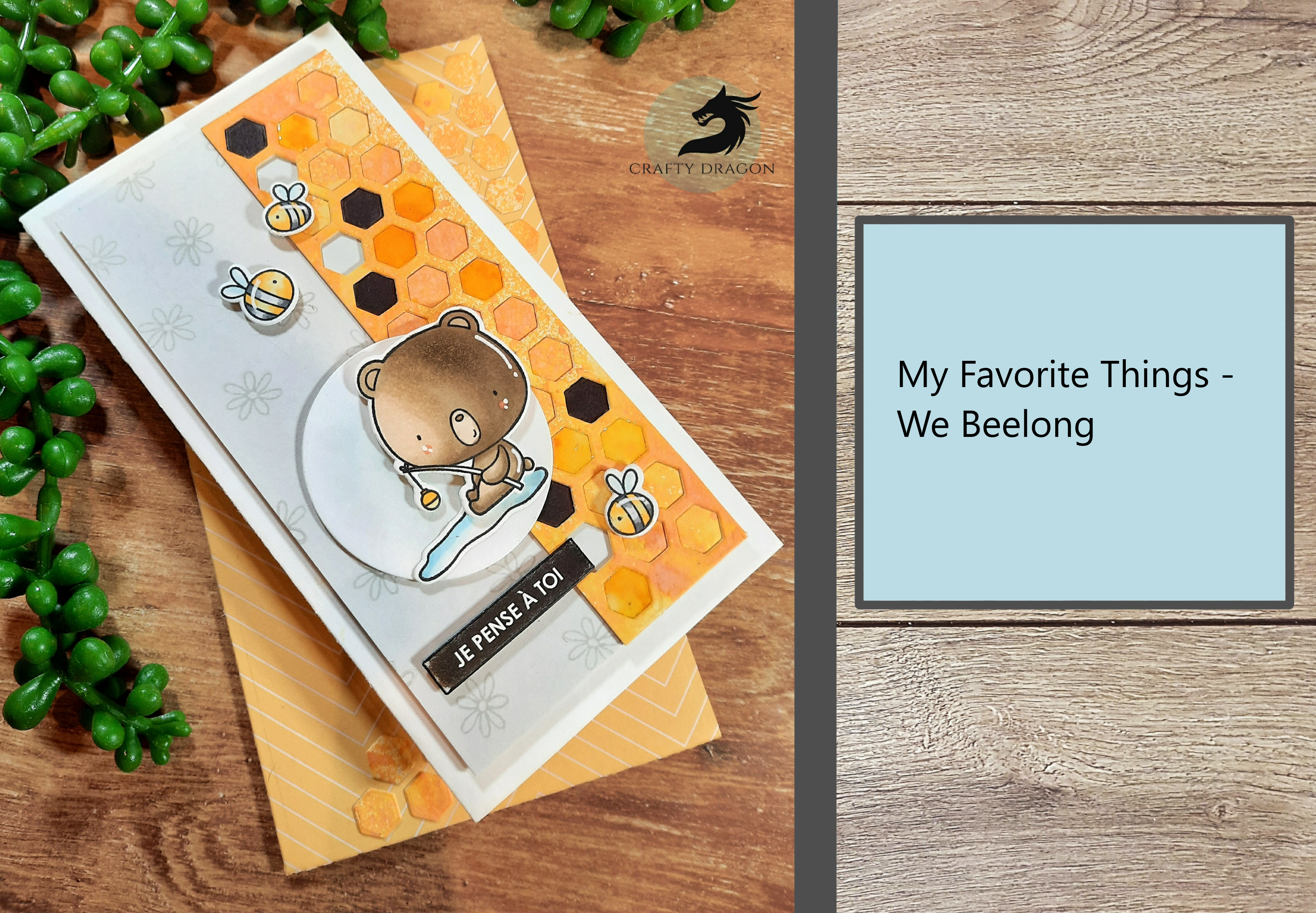 My Favorite Things – We Beelong
Hi guys, today I am sharing a cute card with one of my new stamp set from My Favorite Things We beelong. I am obsessed with these bears, they are so cute! I love fishing, one of the best things to do in the summer, and this little bear with is fishing rod stole my heart. This card was inspired a lot by mariekeslaats on Instagram (she makes a lot of really beautiful cards, go check her out). 
I made a mini slimline card, because recently I am obsessed with them! The dimension here is 3 1/4 and 6 1/4.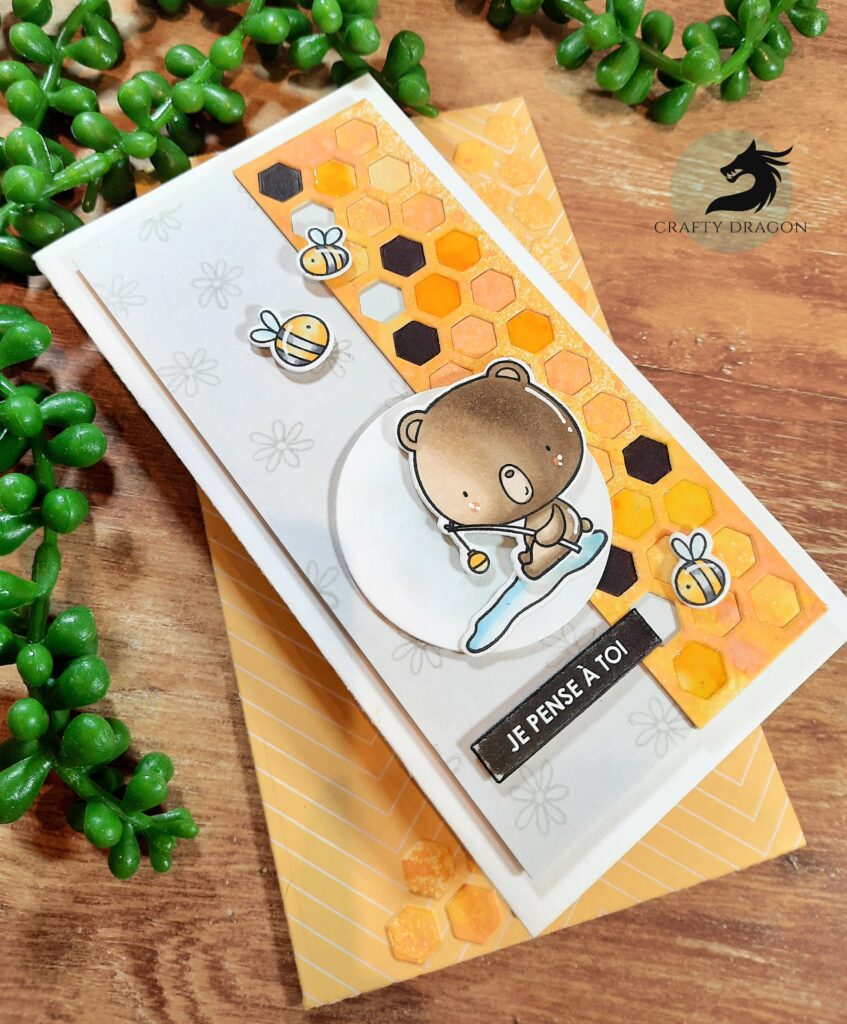 I started this card by using Wild Honey distress oxide spray on a Canson Xl watercolor paper. Then I used the hexagon pops die from MFT and die cut my paper. I cut a scrap of paper with the same die so I could add a little of dimension to this strip. I used the single strip of hexagon to cut black cardstock. 
I stamped the images on Strathmore Marker paper with Memento Tuxedo black ink, which is a copic friendly ink. 
For the Bear, I used E41; E43 ; E44 ; R02 ; Y11 ; Y17. 
For the bees, I used Y11; Y17; N5; N1 and BG10. 
I die cut my stamped image with the coordinating dies.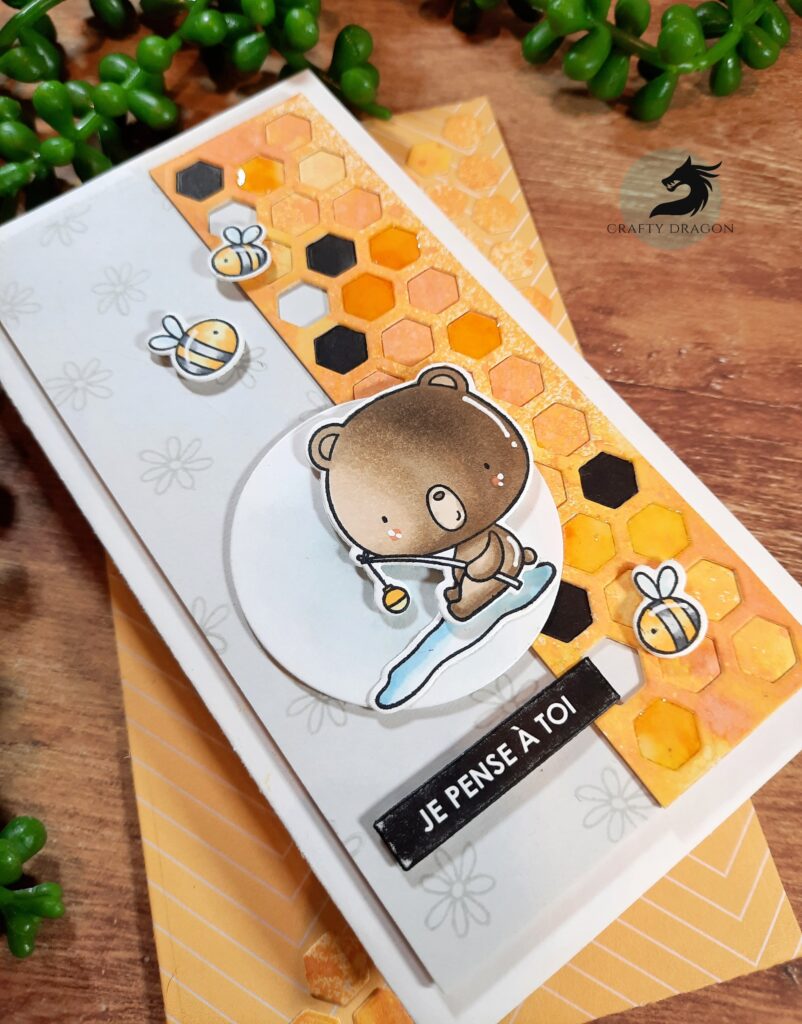 For the background, I use the Sea Salt cardstock from Taylored Expressions (one of my favorite color) and stamped the flowers with the Sea Salt min ink from TE. I added the strip with the hexagons on the grey cardstock, that I cut smaller than my mini slimline card base. I added some of the of the orange hexagons and some of the black hexagon to add some interest. 
Then I used the nested circles from SSS to make add my bear to it. I added a bit of speckled egg distress ink on the circle I made (because this color goes with everything!). I added white lines with my white gelly roll pen.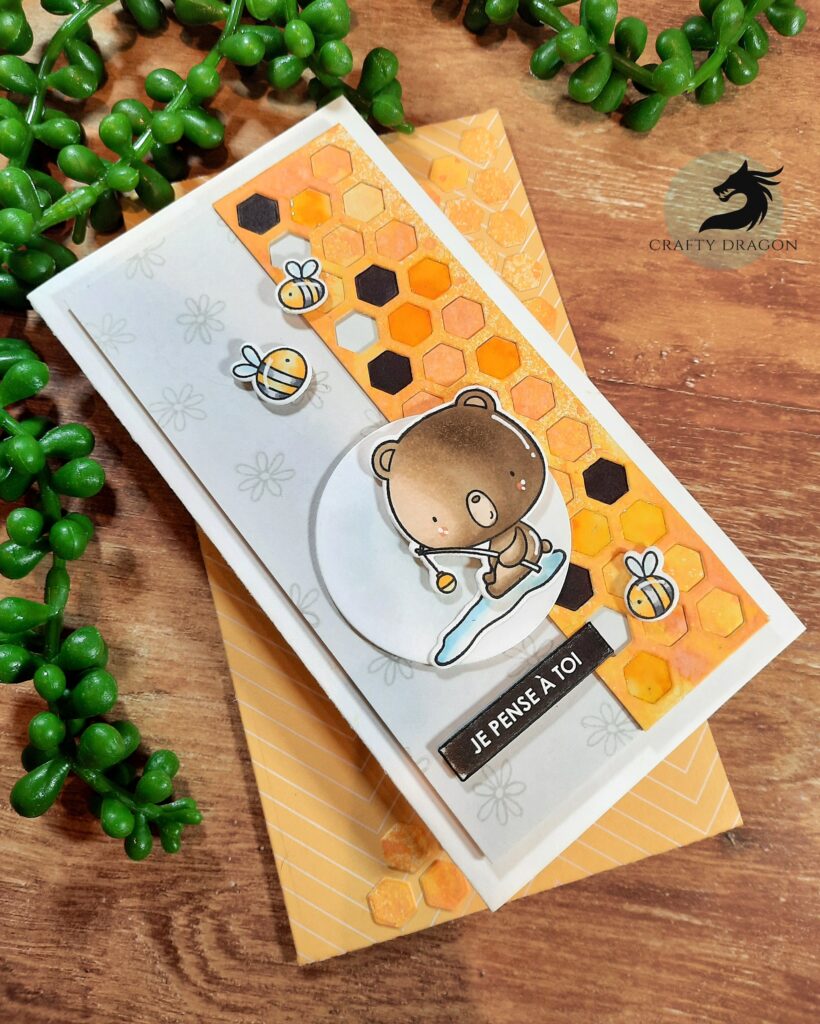 Finally, I added everything to my card base. I foam mounted my grey cardstock, all of the bees, the bear and the sentiment strip. The sentiment strip is from Lime Citron, as always, this I one of my most used supplies, these strips are a must have. They make me think of the sentiment strips from simon says stamps, but I can have them in french.
The sentiment is saying "thinking of you" and when I am fishing, I am always thinking of people I love. This bear is truly beautiful! 
Hope you like my project! Thank you for visiting me!